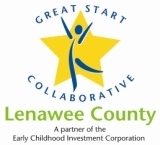 Lenawee Great Start
517-265-1656
christie.cadmus@lisd.us
2946 Sutton Rd
Adrian, Michigan 49221

Screening young children is an effective, efficient way for families to catch delays and start treatment when it does the most good—during the crucial early years when the child's brain and body are developing so rapidly.
Not every disability is visible to the eye. Developmental delays and disabilities such as autism, emotional disturbances, and speech and language disorders often go undetected until a child enters elementary school.
If you have concerns regarding your child's development, please take the time to complete the assessment. If your child is receiving services for a special need, they have already been screened and an additional screen is not necessary.