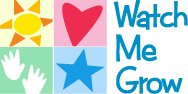 Lakes Region Community Services
603 581-1559
Nicole.bushaw@lrcs.org
719 North Main Street
Laconia , New Hampshire 03246
http://www.lrcs.org
WMG is a FREE statewide developmental screening to help your family ensure that your young child is learning and growing as expected. It includes questionnaires called Ages & Stages Questionnaires (ASQ) for you to answer about your child's development. Your local Family Resource Center will receive the results of your screening. If there are concerns identified for your child, someone will be contacting you to provide activities and possible resources for further referrals. If you have specific questions about the ASQ please contact Nicole Bushaw at nicole.bushaw@lrcs.org.